Air Hose Reels O-series
Compact size for space restricted areas.
For use where maximum volume air flow is required.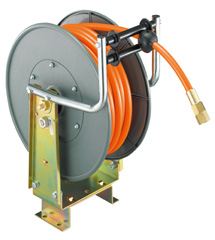 Product

O-series Air Hose Reel

7/16" X 50.0ft

Model

SHR-450P U

Features

Large capacity, light weight.
TRIENS Signeture series poly urethane braid hose.
Reels come complete with urethane braid inlet hose, ball stop and complete mounting hardware.
Guide Arms adjust to wall, floor and overhead positions.
Solid brass axel
TRIENS' quick repair outlet fitting.
Specifications
(Large Frame)
Model
Outlet Hose
Maximum
Working
Pressure
PSI
Inlet Hose
Dimensions
Inch [mm]
Weight
lb [kg]
Hose
Outlet
I.D.
Inch [mm]
Length
ft
Inlet
Length
ft
A
B
C
SHR-450P U
PU
NPT1/2"M
7/16"
[11.0]
50.0
203
NPT1/2"M
3.2
17"
[430]
15"
[380]
10"
[256]
26.4
[12.0]
| | |
| --- | --- |
| Installation Positioning | Dimensions |
| | |
Notes:
• Read the manual thoroughly and use it properly.
• The actual product color may differ.
• Product specifications are subject to change for improvements without notice.
• These products are for indoor use only.