Outlet Cord Reels S-series
Reliability and Results. Triens new redesign standard series.
Cord reels with outlets for convenient access to power.
Redesigned bracket arms for added safety and support.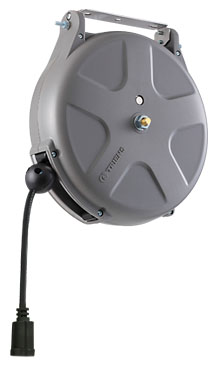 Product

S-series Cord Reel  

125V-40.0ft

Model

SCS-340A U

Features

Compact and light weight, ideal for space restricted installations.
Wall or ceiling mount
Reels come complete with power supply cord, ball stop and complete mounting hardware.
Redesigned steel ratchet and gears for long life.
Solid brass axel
flexible, oil and water resintant cord.
40ft, 16 gauge, 3wire,110V ,single plug outlet.
Specifications
(Small Frame)
Model
Cord
Power Rating
Voltage
/ Current
Primary Joint Cord
Dimensions
Inch [mm]
Weight
lb [kg]
Electric wire
standard
AWG
WIRES
Connection
Length
(ft)
Connection
Length
(ft)
A
B
C
SCS-340A U
UL/CSA
16
3
TYPEB Socket
40.0
AC125V/6A
TYPEB Plug
2.6
12-3/8"
[314]
11-7/16"
[290]
6-1/2"
[164]
9.0
[4.0]
| | |
| --- | --- |
| Installation Positioning | Dimensions |
| | |

Notes:
• Read the manual thoroughly and use it properly.
• The actual product color may differ.
• Product specifications are subject to change for improvements without notice.
• These products are for indoor use only.